⇑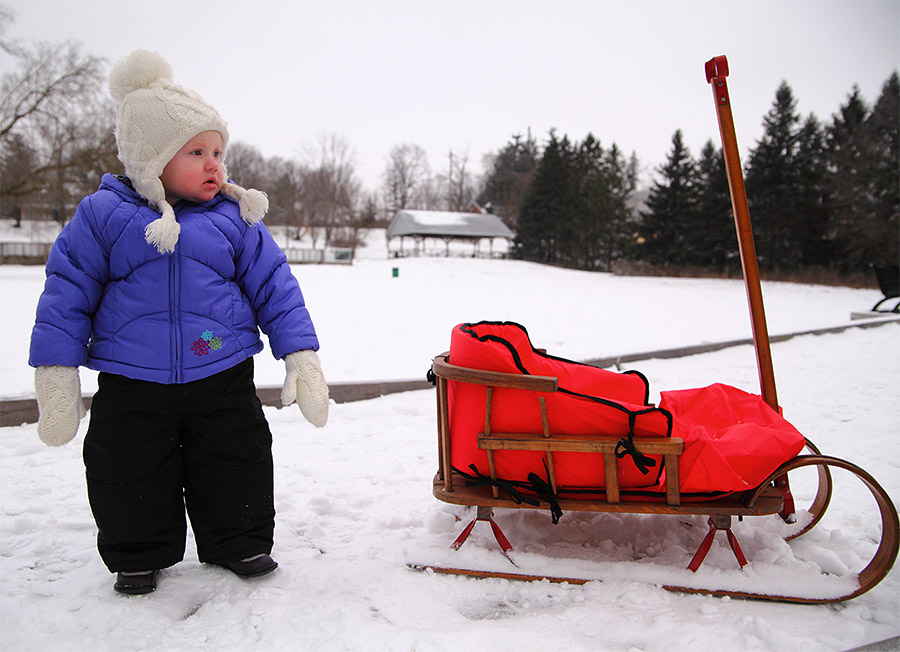 Earlier this year, Aiti gave us this vintage sleigh that I used to ride in when I was a baby in the '70s. While Aiti was visiting us this Christmas, we went out for a sleigh ride up the driveway, down the road, across the bridge, and into Bissell Park. It was a nice day and Aila had a lot of fun riding in the sleigh. The river was very beautiful as well, covered in ice right up to the waterfall.
We have also installed the skis on the wagon that Poppa and Sheila gave us for Aila's birthday, and we've had loads of fun going for short sleigh rides around the front yard with the wagon as well. Apparently Aila even went tobogganing at day care the other day, so she is getting a lot of experience with a Canadian winter so far this season.
Technical details: This photo was taken with my 5D Mark II + Tamron 28-75 at 28mm, ISO 200, f/4 for 1/1250th of a second.
Comments
Wonderful picture. I love the angle you chose. You and Aila are making me miss
the winters back home. :)
-- Alix at 3:24pm, Saturday January 5, 2013 EST

POTW - Photo Map - Home - Feedback

Hosted by theorem.ca