⇑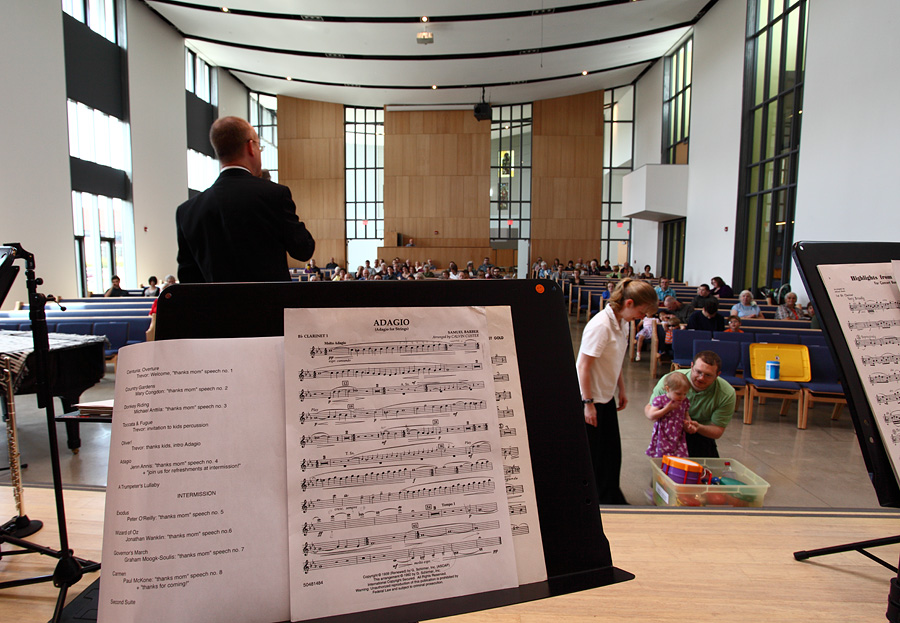 The Waterloo Concert Band had a concert on Mother's Day this year. I thought it would be neat if, instead of photographing the band from the front, I took a picture of what it looks like from where I sit.
The photo didn't turn out quite as well as I had hoped. It turns out that the music stand takes up quite a lot of my field of view (for good reason, I guess). However, the concert itself was great. We had a good audience, and the band sounded really good.
This was the first time the band had a chance to play in the brand new Knox Presbyterian Church in Waterloo. The hall was huge, and the space sounded great.
In honour of Mother's Day, we had band members stand up in between songs and say some words of thanks to our mothers. I volunteered to be one of the speakers, since I figured I was in the unique position of having a mother who taught me how to program computers. This photo was taken just after we had a bunch of kids join us on stage with percussion instruments, and right before we started playing Barber's "Adagio For Strings", adapted for concert band.
Technical details: This photo was taken with my 5D Mark II + 17-40L at 17mm, ISO 200, f/8 for 1/25th of a second.
POTW - Photo Map - Home - Feedback

Hosted by theorem.ca