⇑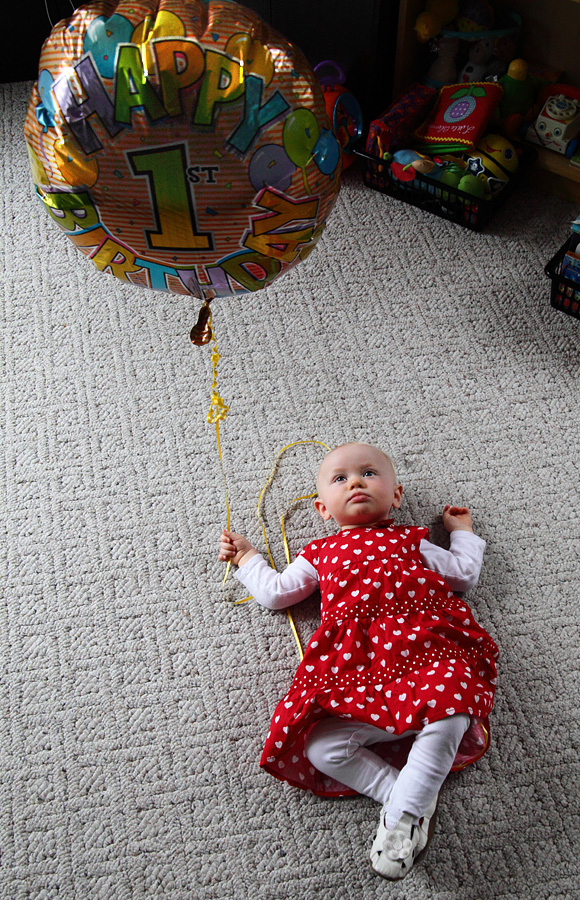 Aila turned one year old this week. I think she was pretty philosophical about getting older. Either that, or she didn't really understand what all the fuss was about.
One thing I'm sure of is that she loves balloons. This photo was one of those moments that just comes and goes, and if you are not there at exactly the right moment, it will pass you by. Usually I don't have a camera in my hand when these moments happen, but this was one of the few times that I did. I knew I didn't have time to set up the shot properly, so I just pressed the button and let the camera do the work.
This is Aila, on her birthday, in her special birthday dress, with her special birthday balloon. I took this in the morning just moments before I left to go to work. Later that day, some of her friends came over for a special birthday playdate. I skipped band practice that night to go with her to her swimming lesson. Unfortunately, she was so tired from her birthday playdate that she didn't really have a great time, but it was still nice to swim with her.
Technical details: This photo was taken with my 5D Mark II + Tamron 28-75 at 28mm, ISO 1600, f/8 for 1/60th of a second.
Comments
Gorgeous picture!
-- Alix at 8:51pm, Sunday May 6, 2012 EST

POTW - Photo Map - Home - Feedback

Hosted by theorem.ca