⇑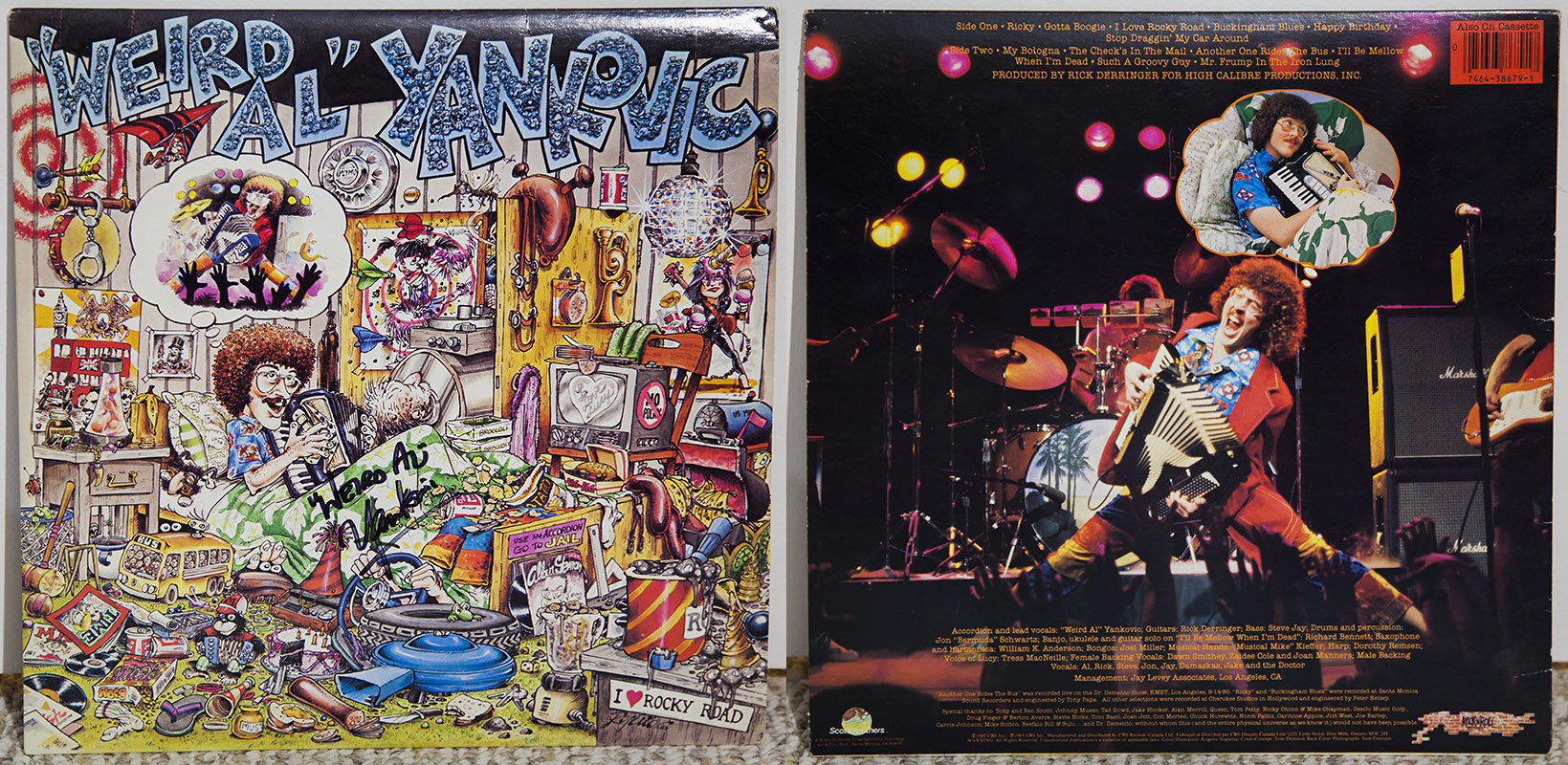 I don't know where to begin with this week's picture. I saw "Weird Al" in concert! I met him after the show! I got his signature!
I've been following Al's career ever since I heard "Eat It" on the radio when I was a kid. My Aunt Rena bought me Dare To Be Stupid on cassette tape for my birthday, and then my Dad managed to get a copy of The Compleat Al, which I watched dozens of times.
After seeing "The Compleat Al", I started collecting all of Al's music, starting with his first self-titled album on vinyl. Since that time I have collected everything. Every studio album. Every CD single. Every boxed set. Every movie. Every TV show. Every concert DVD. Every book. Every children's book. I even own Peter & The Wolf. My most recent acquisition is the new Squeeze Box, which is a boxed set of Al's entire catalogue shaped like a perfect replica of his accordion. (That caused quite a stir when it arrived unexpectedly on our doorstep one day, and I opened it in front of Angela causing her to exclaim: "You bought an accordion?")
I think I have also been to see a live show on every tour since the Alapalooza tour. However, this tour is different. This is The Ridiculoursly Self-Indulgent, Ill-Advised Vanity Tour. For this tour, he is not performing any parodies. He is not having any props. He is just sitting with his band on stage, playing selections from his vast library of original material. Not only that... on this tour the set list for every night is different.
In short, this is the most amazing tour for an Al superfan like me. Angela couldn't come with me this time, so I invited my friend Chad, and he offered to have his wife Leah buy the tickets. She decided to go all out and bought the premium VIP Meet-And-Greet tickets! This was the first time I had VIP Meet-And-Greet tickets for any concert. It was really cool!
The show was awesome, and he played some of my favourites which made me really happy. After the show we lined up to get an item signed by Al. I chose to bring my vinyl copy of his first album, since it was one of the first things I added to my collection as a kid. Out of all of his albums, this is the cover art I like the most. It also has a joke on it that the cassette and CD versions don't have: On the cassette and CD versions, the picture on the back is either missing or obscured. As you can see here, the vinyl version has him lying in bed dreaming of being a rock star on the front, while on the back he is on stage dreaming of being in bed. I always loved that little joke, and was always disappointed that it was missing from the cassette and CD. (I'm happy to report that if you buy the CD version of the Squeeze Box, it does have the picture on the back, although the middle is slightly obscured by the CD.)
OK, if you have read this far then thanks for letting me geek out about Weird Al a bit. I could write pages and pages of stuff about Al or his music or this concert in particular, but I guess I will leave it here. Thanks to Chad for coming to the concert with me and sharing the experience!
Technical Details: This photo was taken with my 5D Mark II + EF 24-105L at 73mm, ISO 100, f/4 for 4 seconds.
POTW - Photo Map - Home - Feedback

Hosted by theorem.ca