⇑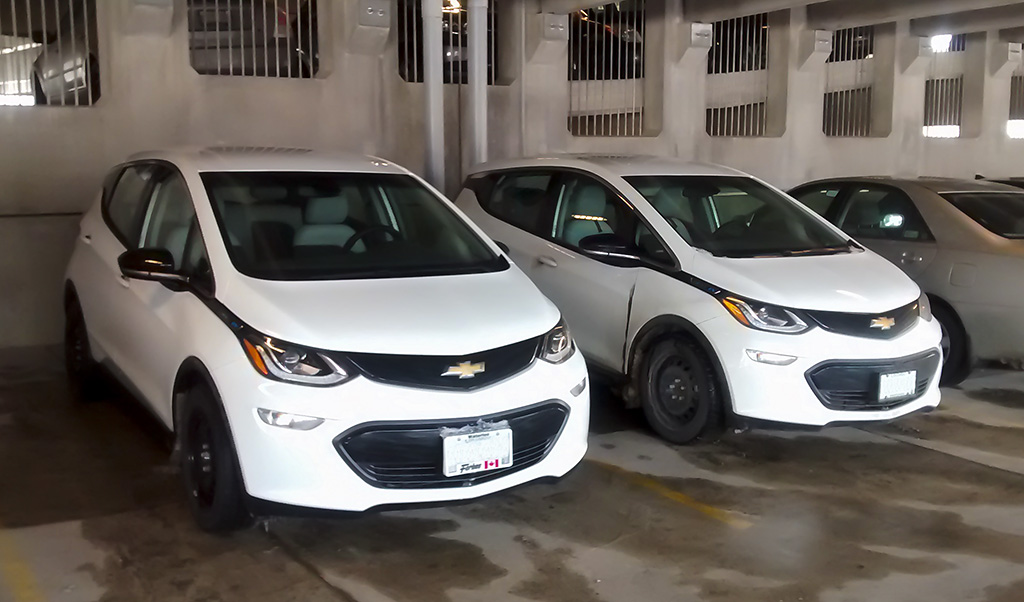 My friend Kris finally got his Bolt! Back in July, both of us went together to the dealership to ask about wait times for Bolts. That was on a Thursday. The next day, I went in again and signed all the paperwork to order one. Kris waited until the Monday to go in and sign all of his paperwork.
Originally we were both told that the 2017 Bolts were all sold out, and that we would have to wait for the 2018 model year. A few months later though I got a call saying my order had been picked up for an extra run of 2017 models. That is how I wound up getting my car in November. Unfortunately, Kris still had to wait until the 2018 model year.
His car was scheduled for production during the first week of January, but I guess it took a while to get off the line and packed up for transport to Waterloo. Finally, in February, his car arrived! Since he picked the same colour as I did, and since the 2017 and 2018 model years are virtually identical, finding my car in the office parking lot is not straightforward anymore.
Here is a picture I took on one of the first days that he brought his new car to work, and we just happened to park beside each other.
Technical Details: This photo was taken with my Moto G cell phone.
POTW - Photo Map - Home - Feedback

Hosted by theorem.ca