⇑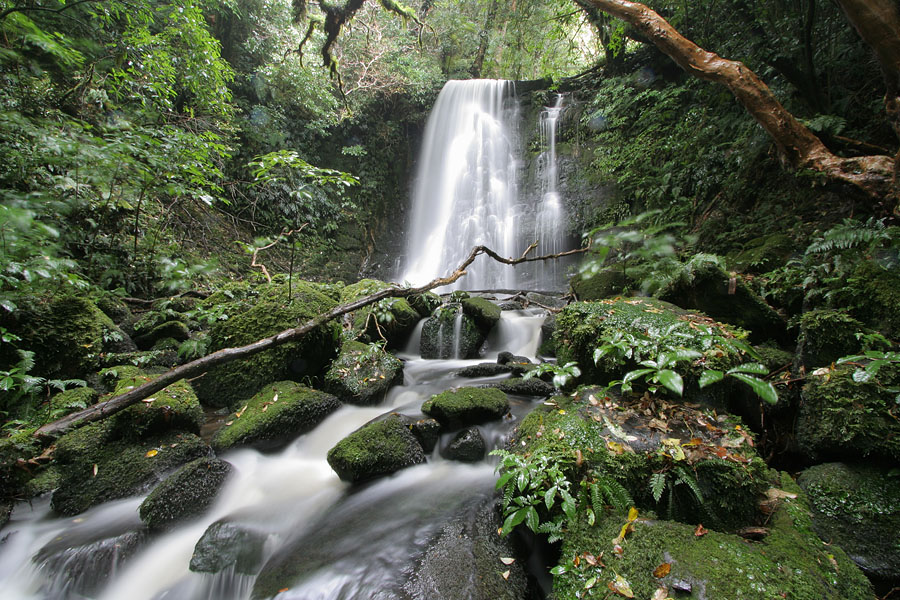 One of the last things we did in New Zealand was to drive along the entire Southern Scenic Route. It is mostly farmland between Te Anau and Invercargill, but between Invercargill and Dunedin it takes you through The Catlins, which is more "rugged" terrain. (Slightly hilly, in other words.) One of the most famous waterfalls in New Zealand, Parakaunui Falls, is in this region. However, I found this waterfall to be quite nice as well. This is Matai Falls, which is located just off the highway fairly close to the turnoff to Parakaunui Falls.
For some reason I didn't bring my tripod to either falls, but luckily there were some wooden railings that were placed at just the perfect height to get a nice photo. How convenient! On a related note, I'm getting closer to putting together an online album of New Zealand photos. I still have to bring it down to a reasonable size. I have cut it down to 973 photos so far... I want to get that down to less than 200 before posting it online.
Technical details: This image was taken with my Rebel XT + EF-S 10-22mm at 10mm, ISO 100, f/16, for 8 seconds.
Comments
Hey, man!  That's really, really pretty!  Good job!
-- Chad at 1:02pm, Sunday June 28, 2009 EST
Wow this is beautiful, I love the light coming in from the right above the
falls. 
-- Sue at 6:29pm, Monday June 29, 2009 EST

POTW - Photo Map - Home - Feedback

Hosted by theorem.ca