⇑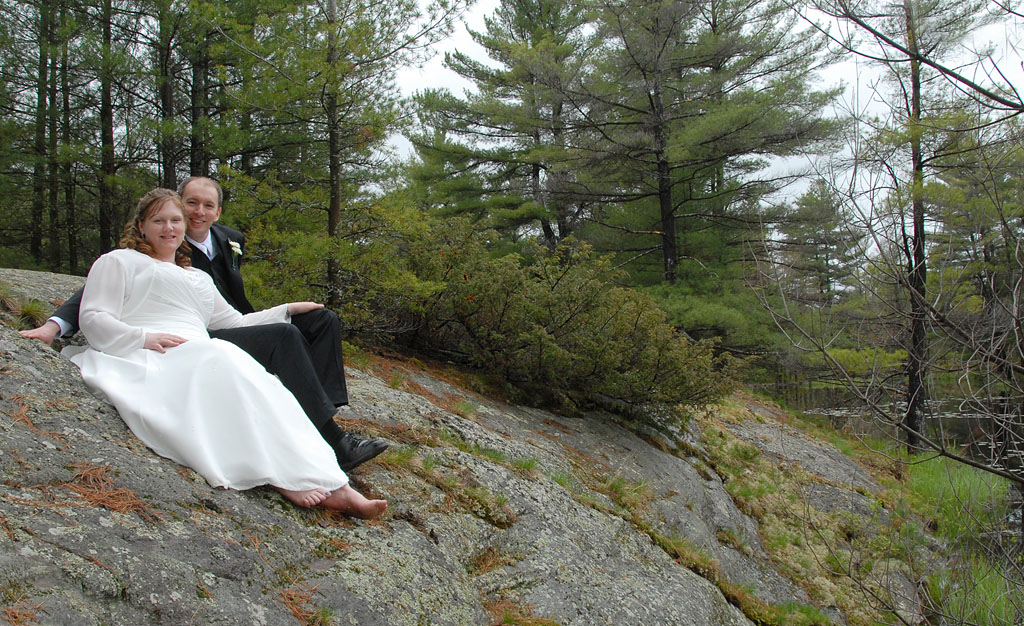 For our wedding, one of our main goals was to get married outside in the great Canadian wilderness. We had to move the actual ceremony inside due to a last minute thunderstorm, but we were able to have many of our wedding photos taken outside, which was great.
Last summer when we visited the resort, we spent time scouting locations to have our wedding photos taken. About halfway along the hiking trail they have on the property, there is a small lake/swamp that we thought would be a great place to take pictures. It was a little buggy, but everyone stuck it out and our photographer managed to get some great shots of us enjoying the great outdoors.
This is probably the last wedding/honeymoon picture of the week that I will post for a while. We are almost finished preparing online photo albums that will be posted on Picasa soon, for those of you who are interesting in following our adventures. :)
Technical details: This image was taken by Full Frame Photography with a Nikon D200 at 18mm, ISO 400, f/8 for 1/250th of a second.
Comments
What a great couple you make!  May you have many more great adventures
together.
-- Jeannie at 11:35am, Wednesday July 1, 2009 EST
Comment On This Picture
POTW - Photo Map - Home - Feedback

Hosted by theorem.ca