⇑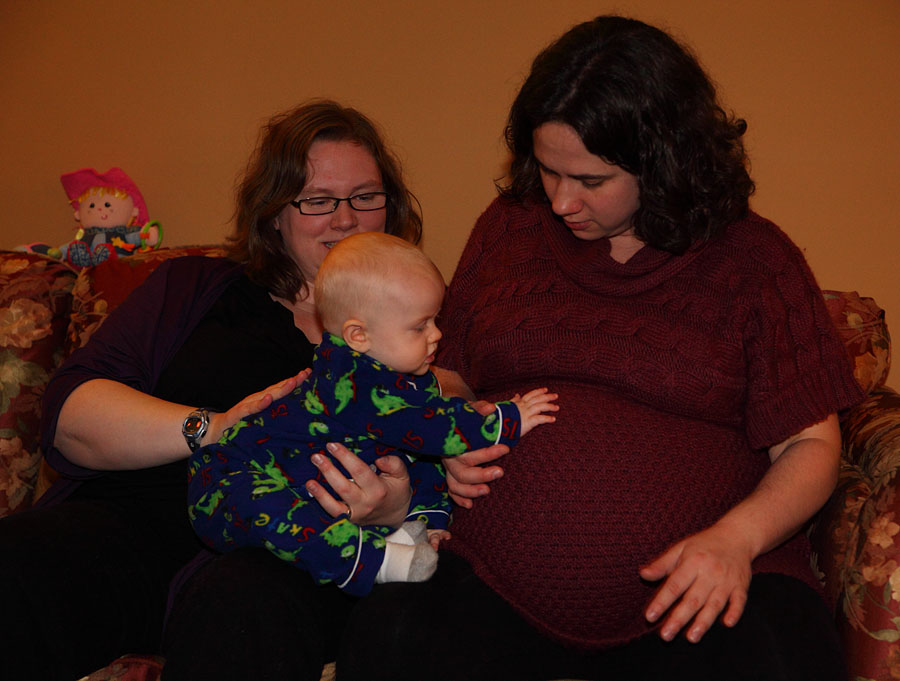 When you get to a certain age, it seems like everyone around you is pregnant. Fran and Jason are expecting their first little one in late January. On New Years Eve, Aila refused to go to sleep because she wanted to party with the rest of us. Here she is in her pajamas trying to feel kicks.
We have a betting pool going as to when the little one will be born. Angela picked the 12th, and I picked the 15th. As of now, Angela is out of the running, and it looks like I will be out of the running very soon now as well. Most of us thought the new baby would come early, but so far he is proving us wrong, one by one.
Technical details: This photo was taken with my 5D Mark II + Tamron 28-75 at 65mm, ISO 1600, f/4 for 1/30th of a second (with flash at -1 exposure compensation).
Comments
Any word yet?  Great shot!
-- Dad at 3:42pm, Monday January 16, 2012 EST
No word yet...	I had picked the 15th (my birthday) at 2:48pm (Aila's birth
time).
-- Michael at 4:57pm, Monday January 16, 2012 EST

POTW - Photo Map - Home - Feedback

Hosted by theorem.ca