⇑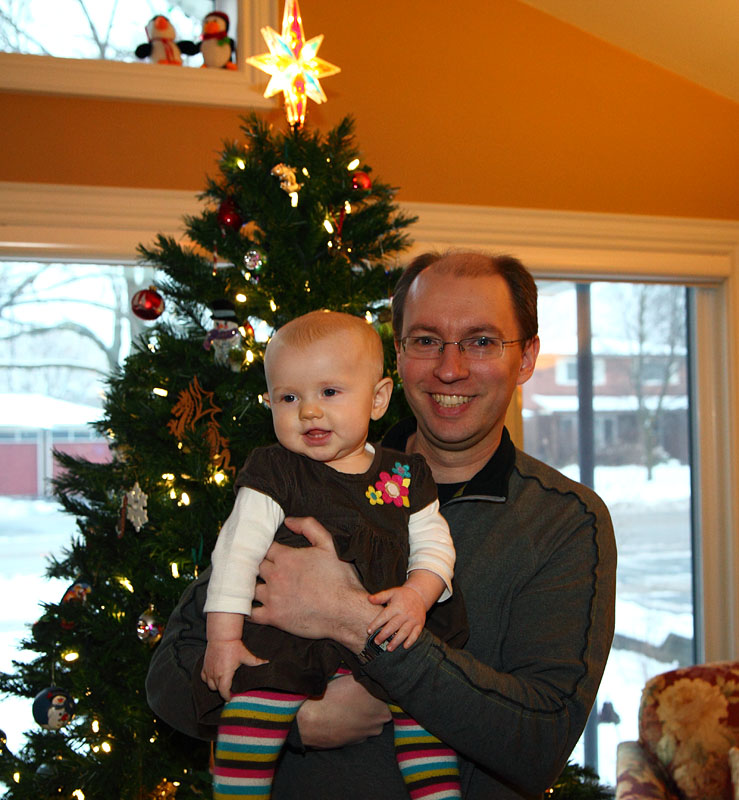 Happy New Year! For New Years Eve this year we travelled to Newmarket for a party at Sandy and Teresa's house. Aila had a great time partying with us, and after she went to sleep we played TriBond and a Harry Potter-themed version of Clue, then counted down to 2012! We also started a pool to see who could predict the birth date, time, and weight of Fran and Jason's baby, who is due sometime in January.
By the way: You can see Aila's two teeth in this photo! She has become very good at using them, even though she only has two. I think her two top teeth are going to come in soon, so she will be able to tackle more difficult foods.
Technical details: This photo was taken by Angela with my 5D Mark II + Tamron 28-75 at 35mm, ISO 1600, f/4 for 1/30th of a second (with flash at -1 exposure compensation).
Comments
Happy New Year! Aila is so big! :)

We played Harry Potter Clue at Christmas -
it was tons of fun. 
-- Alix at 10:03pm, Wednesday January 4, 2012 EST
Hey, Mike! How come you're always smiling?  HA HA.

I love your pictures ...
it's a nice way to keep tabs on Aila.
-- Rena at 12:05am, Sunday January 8, 2012 EST
Comment On This Picture
POTW - Photo Map - Home - Feedback

Hosted by theorem.ca