⇑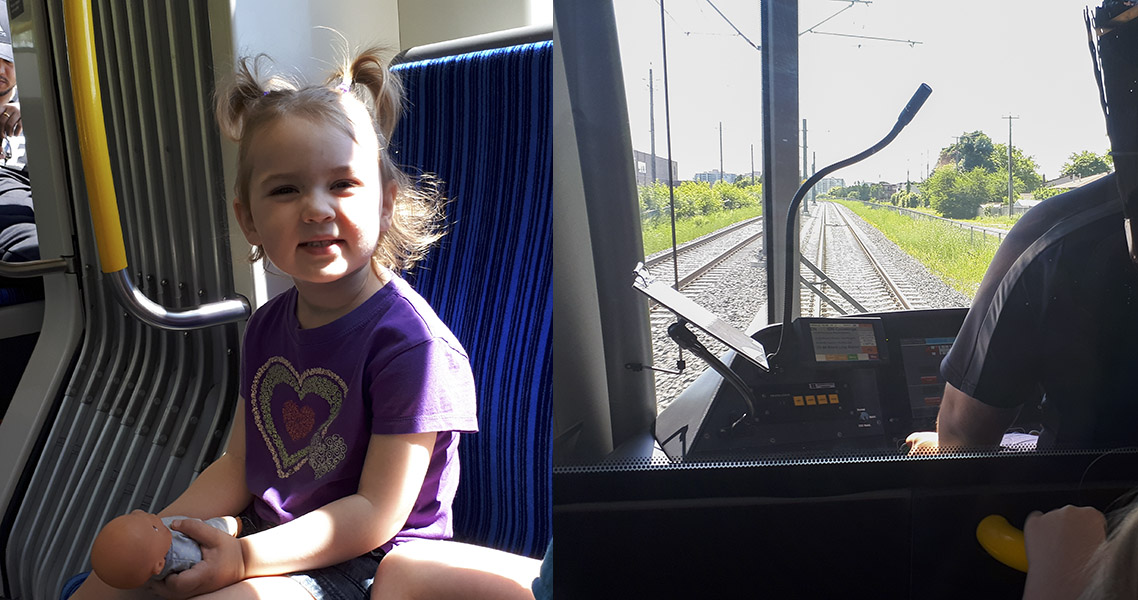 When they first announced that they were building a light rail system in KW, I knew I wanted to ride it from end to end when it first opened, like I did with the first O-Train in Ottawa. I had all three kids with me one day during the first week of operation, so I took them all on the train with me. We were in for quite an adventure.
We boarded the train at Conestoga mall, and headed south towards Fairview mall. Just after we got into Kitchener, the train stopped at a station and announced that the train in front of us had collided with a car, and that we would all have to disembark and take the bus. We got off the train and noticed that we were right in front of "Go Bananas", which is an indoor rock climbing place. I decided that buses were uncool, so we went rock climbing for a bit while we waiting for the trains to start running again.
After rock climbing, we got back on the train and continued south towards Fairview. At the mall we wandered around for a bit, had some lunch, and then went back to wait for the train. By now the trains were absolutely packed. On our way back up through the city, the train refused to take on any more passengers because it was so full.
Luckily for us, since we had been first in line to get on the train at Fairview, we got a seat at the front where we could see the driver and the view down the track. As we crossed into Waterloo, Angela called us and suggested that we meet for dinner, so we disembarked at Waterloo Town Square and met her at The Works for dinner. After dinner we got back on the train and continued up to Conestoga mall to retrieve our van and head home.
All in all, it turned out to be a pretty extensive trip on the new ION train!
Technical Details: These photos were taken with my Samsung A5.
POTW - Photo Map - Home - Feedback

Hosted by theorem.ca