⇑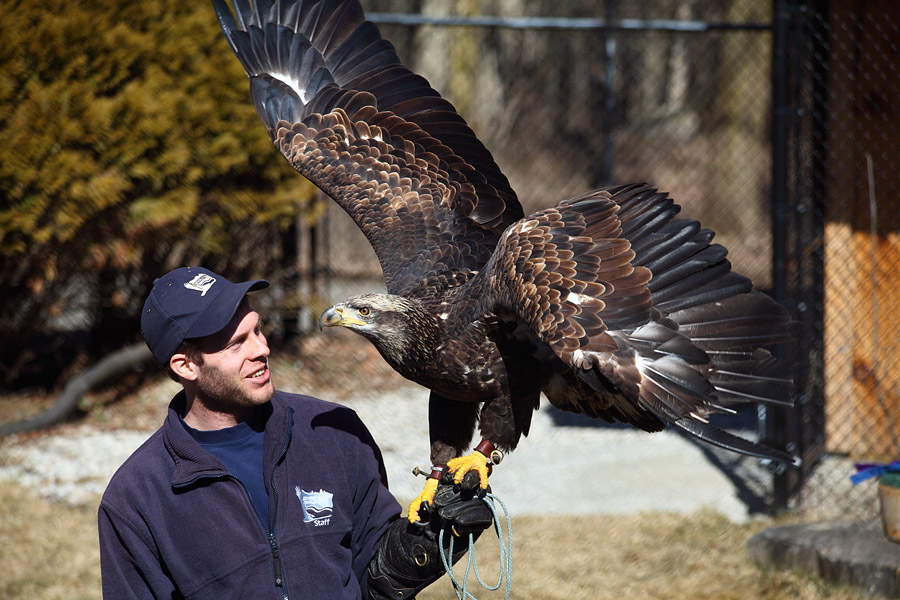 On March 11th this year June suggested we go to the Mountsberg Conservation Area to experience their Maple Towne maple syrup event. It was a gorgeous day, so it was quite busy... but we had a great time, so we will definitely go back again sometime.
They had more than just trees and maple syrup: They had a barn full of animals (you may have already seen the photos of Aila petting a goat on Facebook), a barn full of hay for the bigger kids to play in, and they have a "Raptor Centre" where they have demonstrations of birds of prey.
This is a photo of a young bald eagle and his handler. We also got to see a snowy owl, and we ate some pancakes with fresh maple syrup.
Technical details: This photo was taken with my 5D Mark II + EF 70-300 IS at 160mm, ISO 100, f/5.6 for 1/400th of a second.
Comments
Just testing the commenting system again.
-- Michael at 7:19pm, Saturday March 24, 2012 EST
Great shot!
-- Mum at 10:02pm, Saturday March 24, 2012 EST
Testing the commenting system again; please ignore.
-- Michael at 1:54pm, Sunday March 25, 2012 EST
Comment On This Picture
POTW - Photo Map - Home - Feedback

Hosted by theorem.ca