⇑
⇍ December 7th, 2008 ⇏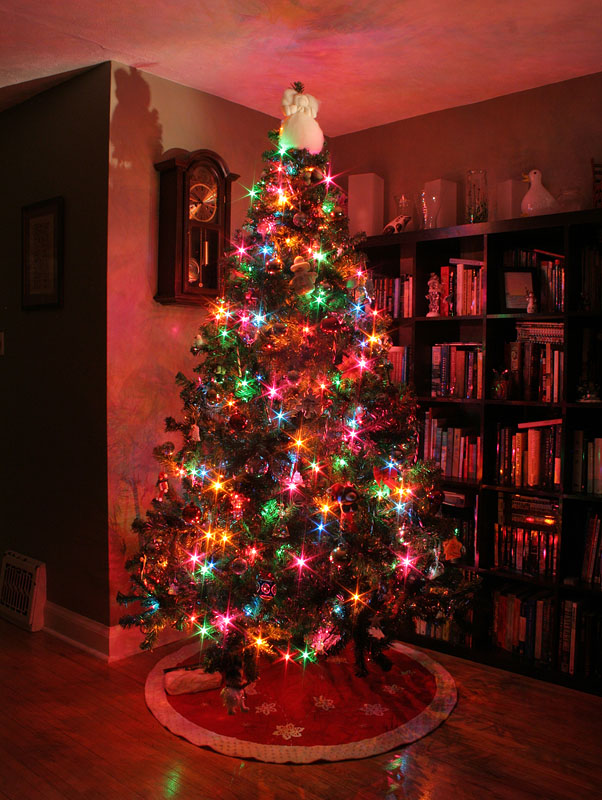 It's Christmas time again! We have been super busy, as you probably guessed since I'm still a week behind on my POTW.
This year I decided to take a wider angle shot of our Christmas tree. I used a small aperture to get the starlike effect and a flashlight to illuminate the angel on top.
Technical details: This photo was taken with my Rebel XT + kit lens at 18mm, ISO 400, f/16 for 30 seconds.
Comments
Great picture Mike, i like how the lights sparkle. merry christmas!
-- kevin at 1:25pm, Tuesday December 16, 2008 EST
Thanks!
-- Michael at 1:45pm, Wednesday December 17, 2008 EST
Wow, what a beautiful tree! 
-- Sue at 9:01pm, Wednesday December 17, 2008 EST
Your tree and Sue's look so good we will just print pictures of them instead of
setting up our own tree. I wonder if I can get away with that? I hope that you
and Angela have a great Christmas!! Dad
-- Eric at 10:20am, Sunday December 21, 2008 EST

POTW - Photo Map - Home - Feedback

Hosted by theorem.ca