⇑
⇍ November 26th, 2006 ⇏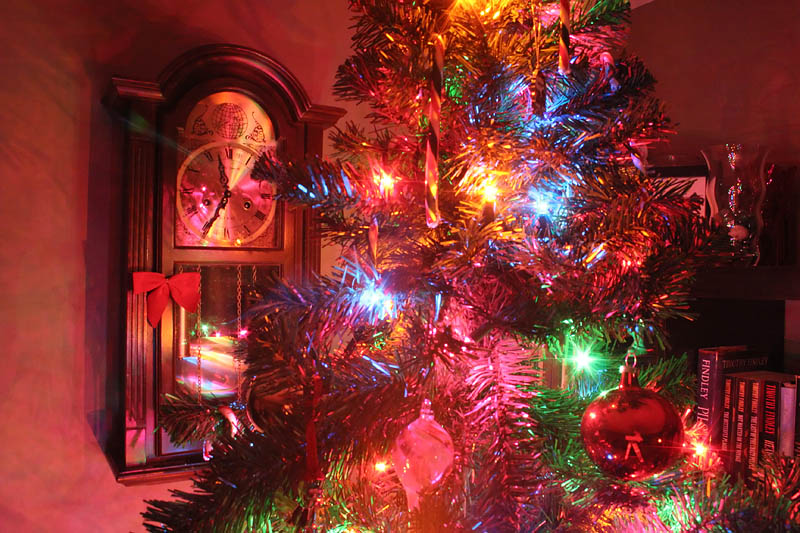 This past week was very busy, and this coming week will be even more busy, but I still had time for some fun amongst everything else that was happening.
On Friday, Angela and I hosted a little Karaoke Revolution party. If you haven't seen this game you should check it out at least once. Basically it measures your pitch as you sing along to popular tunes and scores you based on how accurate you are. It's surprisingly fun and addictive. I own all four versions that have been released for the PS2, and I have two microphones as well so that it's possible to do cooperative duets or battle someone head to head.
On Sunday, Angela and I decided to put up our Christmas tree. It's huge! After we finished decorating it we turned off all of the house lights and basked in the glow of the tree. I liked the way the tree was reflected in Angela's clock, so I decided to try to capture that feeling for this week's picture.
Someone once asked why I take pictures, and I typed the first thing that came to mind, which was "because I want to capture emotions". I found it interesting, because it wasn't the answer I was expecting myself to type. Some time after that, Jenny mentioned that she liked my "Picture Of The Week" photo blog, but that she would like to see more of an explanation of the feelings I was having while I was taking the picture, rather than just the "technical details" of how the picture was taken.
Since then I've thought about that each time I post a new picture, but quite often I just find that I have nothing to say about the emotional content of the photographs. Maybe it is because I don't know how to express emotions in words, or maybe the reason I take pictures is because I can't express my emotions as words, and thus posting photos to the internet is how my emotional self communicates with the outside world. Maybe it's getting late and I'm rambling.
Anyway, this photo is trying to express the feeling you get when you look at the reflection of a Christmas tree in a clock.
Technical details: This was shot with my Rebel XT + kit lens at 18mm, ISO 1600, f/11, for 5 seconds. My tripod wasn't tall enough to get the shot so my camera was resting precariously on top of a phone book on the top of my step ladder.
Comments
It is tremendous to realize that photography can express emotional content
besides simply being a mirror of what we see. The photo brings out feelings of
Christmas and its importance as a celebration of family and friends, of birth
and hope. Of course the clock for me brings the feeling of life passing by so
quickly and re-emphasizing the Zen philosophy of 'being fully alive in the
moment'.
-- Dad at 10:50am, Tuesday November 28, 2006 EST
It's gorgeous! I know exactly what you mean, Michael. 
-- Alix at 12:10pm, Tuesday November 28, 2006 EST
Oooo... Illuminating. 
-- Sue at 10:25am, Thursday November 30, 2006 EST
For me, this photo expresses perfectly the feeling I get when I see something
reflected in a Christmas bulb in a photo of a Christmas tree but can't quite
make out what it is, and I obsess about it and peer closely at my PC screen
until I realize that it's a reflection of a camera sitting on a phone book
sitting on a stepladder, just as the photographer described in his "technical
details."  Then I have to go lie down.
-- Jenny at 4:40pm, Monday December 4, 2006 EST
Hahah... sorry... didn't mean to torture anyone.  I was wondering who would be
first to notice that.  ;)
-- Michael at 11:09pm, Monday December 4, 2006 EST

POTW - Photo Map - Home - Feedback

Hosted by theorem.ca