Week Of February 12th, 2006
Angela gets the credit for this week's photo. This weekend we journeyed to Ottawa to attend my dad's wedding. It turned out to be a whirlwind trip, because Alix's flight from St John's was cancelled, and the only other decent flight she could get landed in Toronto at 2:45pm the day of the wedding. Angela and I picked Alix up from the airport and we managed to get to the wedding in Orleans in just four and a half hours. We arrived fifteen minutes before the wedding started, which was just enough time to get changed and try to gather our wits after so much travelling.
Anyway, the wedding was fun. While I was standing up front, Angela grabbed my camera to take pictures of the ceremony. About half way through, my little niece Zoe decided to take centre stage, and Angela managed to take this great shot of Zoe in the spotlight.
The picture was taken with my Rebel XT + 50mm 1.8 Mark II at ISO 1600, f/1.8, for 1/30th of a second (handheld!). The shot is pretty much as it came out of the camera, run through NoiseNinja and then resized and sharpened slightly.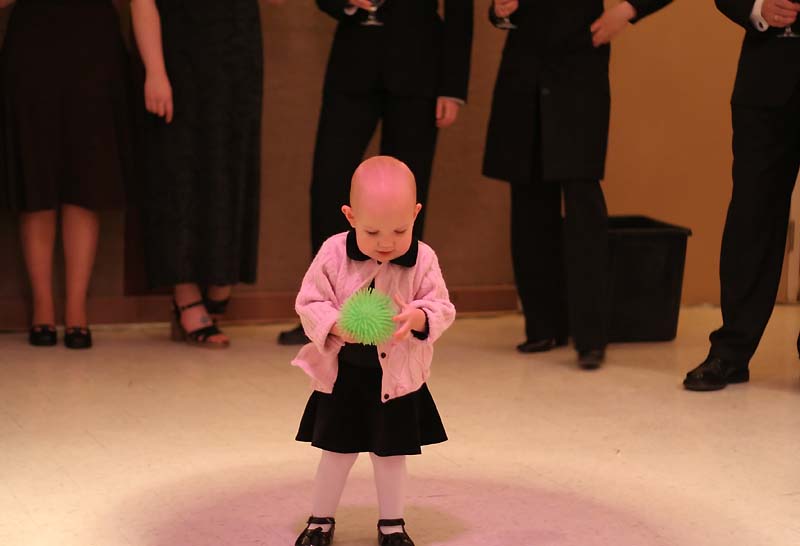 Copyright 2006 Michael Anttila
Comments
For those interested in photography, I should talk a bit about "camera shake". 
Camera shake occurs when the camera moves while the picture is being taken. 
Usually this happens because we are holding the camera with our hands and it is
impossible to hold our hands perfectly still.

You can reduce camera shake by
increasing the shutter speed.  This makes sense because if the shutter isn't
open for very long, then there is less chance that your hands will
inadvertently move while the photo is being exposed.  Unfortunately, in many
cases we want the shutter to be open as long as possible to let in the most
light.	So, we need to figure out how fast the shutter speed should be in order
to have the best chance of eliminating camera shake.

One thing to notice is
that wide angle landscape shots are less affected by camera shake than zoomed
in close up shots.  That's because the more zoomed in you are, the more
noticeable any slight movement of the camera becomes.

After much experience,
film photographers came up with the rule that in order to mostly eliminate
camera shake, your shutter speed should be less than or equal to the reciprocal
of the focal length of your lens.  For example, if you are using a 50mm lens,
your shutter speed should be 1/50th of a second or faster.  Any slower than
that and you should use a tripod.

For a digital camera like mine with an APS
sized sensor, it's generally a good idea to multiply the focal length by 1.6
before using it in the calculation.  Therefore my 50mm lens behaves like an
80mm lens, and thus my shutter speed should be 1/80th of a second or less.

Unfortunately, the reception hall at the wedding was very dark, and even with
my lens wide open at f/1.8 and my camera set at ISO 1600, 1/80th of a second
was too fast and all my pictures would have been underexposed.	So I gambled
and set the shutter speed to 1/30th of a second, ensuring a good exposure but
risking having many of my shots turn out blurry.

I think the gamble paid off. 
At first glance, I think less than 1/4 of all the photos taken suffered from
camera shake, and some of those might have had focusing problems anyway (with
such an open aperture it is very difficult to get correct focus).

-- Michael
Comment On This Picture
POTW - Photo Map - Home - Feedback

Hosted by theorem.ca