⇑
⇍ December 25th, 2005 ⇏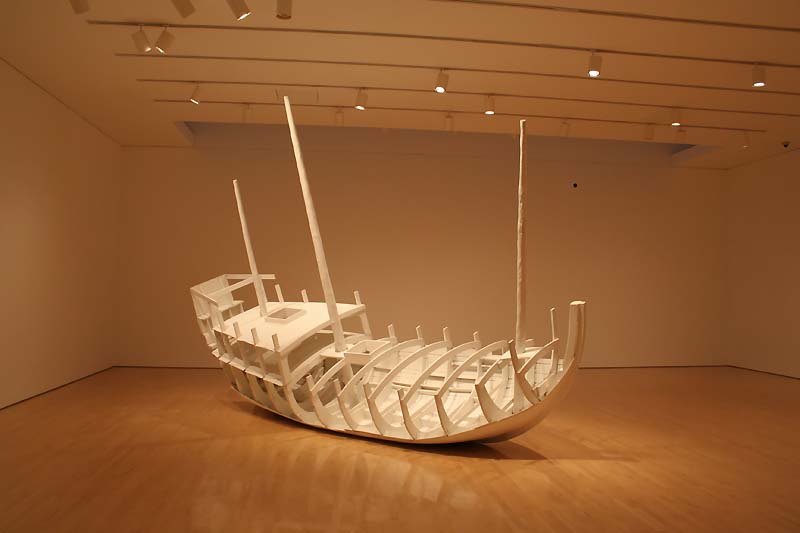 This year Angela and I finally got to spend Christmas together. We spent Christmas Eve in Waterloo, then on Christmas Day we drove to Burlington and Orangeville to visit with Angela's family, and then on Boxing Day we drove to the Ottawa area to spend a few days visiting my family. On the 27th, Alix, Susan, Angela and I drove into the city to go shopping at the Ottawa Folklore Centre. We had about two hours to spare after that, so we dropped into the National Gallery of Canada to see any new additions to the permanent collection. One of the most stunning works was "Untitled (Head of a Baby)" by Ron Mueck, which is a very large and realistic baby head. I was going to post a picture I took of the baby head, but then I noticed that this picture turned out really well. Unfortunately I can't verify exactly what it is, but from memory I believe it is "Columbus Boat" by Carl Beam.
This was shot using my Rebel XT + kit lens at 18mm, ISO-800, f/6.3, for 1/25 seconds (which is usually a little long for hand held shots, so I'm not sure what I was thinking at the time).
Comments
I thought it was "Columbus Iceberg," but I could be wrong. In any case, it is
cool. I enjoyed his "The Theoretical Problematic" piece as well.
-- Alix
Well, there was another painting by Carl Beam there called "The North American
Iceberg".  It is strange that the National Gallery doesn't list the work on
their website.	They only have the paintings listed.
-- Michael
Comment On This Picture
POTW - Photo Map - Home - Feedback

Hosted by theorem.ca