⇑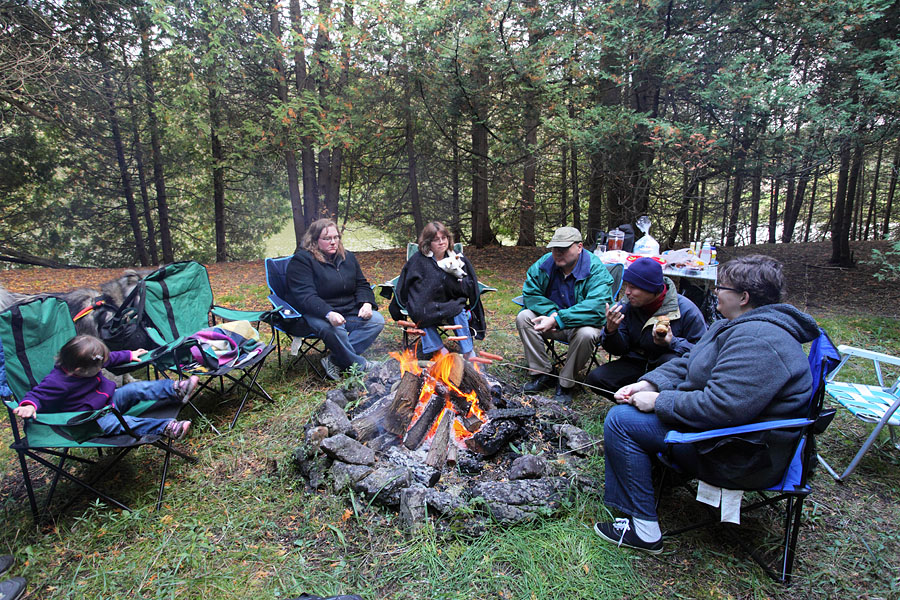 The Papel family helped us "break in" our campfire pit this summer, and due to several requests from friends, we decided to throw a campfire weiner-roast party this fall! We happened to throw it on one of the coldest and most miserable weekends in September, but a bunch of brave souls showed up, and at the last minute the rain cleared up. Everyone gathered around by the fire and cooked veggie dogs and various other types of hot dogs. Luch brought a s'mores kit so later on we each tried our hand at making s'mores on the open fire. We also made the BBQ available for those with more complex cooking needs. :)
Everyone had a great time. Hopefully the weather stays nice and we have enough time to have another campfire before winter sets in!
Technical details: This photo was taken with my 5D Mark II + 17-40 L at 21mm, ISO 800, f/8 for 1/40th of a second.
Comments
I'm still jealous of that wide angle lens.  My framing didn't work out nearly
as well.
-- Ken at 10:25pm, Tuesday October 11, 2011 EST
Looking for an invite next time!  What an awesome fire!
-- Aneta at 8:51am, Wednesday October 12, 2011 EST
Comment On This Picture
POTW - Photo Map - Home - Feedback

Hosted by theorem.ca